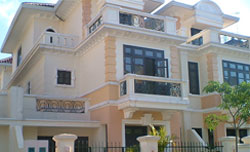 Hanoi City is the political, economic, education and cultural heart of Vietnam. It sits at the centre of the Red River Delta Region, and is a relatively small capital, with a population of nearly 3 million.

Hanoi is not as garish or as dizzying as Ho Chi Minh City. It is a charming city of tree-lined boulevards and open parks that exude a French atmosphere, reminiscent of its past colonial master.
The city was created in 1010. It became the government centre for France's Indochina Union in 1888 and became the official capital of independent Vietnam in 1954. It has a lovely balance of Old World and New, of East and West. Well-preserved ancient shrines and French colonial houses sit comfortably next to sleek shiny modern high-rises.

Since Vietnam opened its doors to international markets, hundreds of foreign companies have poured into Hanoi for business and investment opportunities.
Tourism and finance are slowly gaining priority. Industrial production continues to be strong here, with 13 large-scale industrial parks and 16 smaller industrial clusters. The agricultural sector, once the stronghold of Hanoi's economy, is also being developed. Updated farming techniques are being used and other plants and livestock are introduced.
The city's infrastructure is slowly being upgraded in response to this growth. New roads are constantly being built, and public transportation systems are being improved.
The real estate market has also seen a boom over the years, with new urban areas such as Trung Hoa Nhan Chinh and Ciputra being developed. With Hanoi's star continuing to rise, it should be no surprise if it catches up with its stronger Southeast Asian counterparts in the years to come.
Just years ago, Western fast food joints, internet cafés, hotels and hostels were difficult to come by here. But with the growing number of travellers to Vietnam, more and more international companies and brands are popping up all over the place. But despite the surge of development and foreign investment in the city, Hanoi has done an excellent job of maintaining its Old World charm.
Hanoi is situated on lowlands between two rivers, and there are many lakes in and around it. West Lake (Hồ Tây), is the largest and most well-visited in the city. It is surrounded by temples and has a fancy floating restaurant.
Hanoi is Vietnam's centre of education. As it was the capital of French Indochina, it naturally became the centre the city's first Western-style universities. Still more were built after the Communist Party took control in 1954.
The number of cultural and historical sites in the city is astounding. Every ruling dynasty that controlled Hanoi did not leave without leaving its mark on it. Six hundred temples and pagodas stand in Hanoi alone.
The best place to find a great cluster of colonial architecture is the French Quarter with its grand old buildings—the Opera House, the Presidential Palace, the Cathédrale St-Joseph, and hotel Sofitel Metropole.
Hanoi's modern attractions are quite a bit louder and glitzier. The city has a slew of large shopping malls, karaoke bars, dance clubs, modern and traditional theatres, cinemas, bowling alleys, and restaurants.
Hanoi is particularly proud of its delectable cuisine. Many of Vietnam's world-renowned dishes originated in Hanoi. The most common and popular dish is phở, a rice noodle soup that is eaten any time of the day and goes well with beef or chicken. It is as delicious eaten in a restaurant as it is at a streetside eatery.
Hanoi stirs early. Joggers and tai chi practitioners are out and about before sunrise, engaging in morning exercise in the city's many parks. The rest of the workforce is out by 7:30 a.m., breaking for lunch between 11 a.m. and 1 p.m. Offices are open until 5 p.m. Restaurants that serve dinner usually remain open until 10 in the evening.
Hanoi has four distinct seasons: a chilly, snow-less winter, a humid and sometimes rainy summer, a pleasant spring, and a cooler fall. On average, it is quite hot in Hanoi, like most of Vietnam.
---