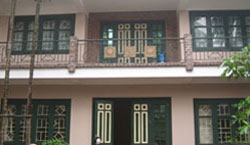 Gia Lam is one of Hanoi's suburban districts. It has one of the city's two major airports, the Gia Lam Airport (Sân bay Gia Lâm), which services military and civil domestic flights.

Gia Lam served as a military field during the Japanese occupation of French Indochina.
Kieu Ky Village
The village of Kieu Ky is a suburban community in Gia Lam District. It is famous for its production of handmade gold and silver leaf. These are used to cover wooden statues and lacquer paintings. Kieu Ky is also known for its leather goods production.
Stories of old tell of a man named Nguyen Qui Tri who, during the Ly Dynasty era, travelled to China and discovered the art of gold-leaf making. He returned to his home in Kieu Ky and taught the people this practice.
Though small, Kieu Ky is polluted due to lack of waste water treatment systems and a sanitation model.
---