The arrondissement of Fort-de-France has 16 cantons and 4 communes. It encompasses the capital of Martinique, Fort-de-France, the largest urban area in the island and a very popular resort.
Fort-de-France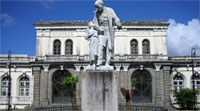 Fort-de-France (a prime area) is the capital of Martinique. Although it is the largest of all the urban areas on the island, it has still not acquired the bustling economic activity that was clearly evident in the city of Sainte-Pierre before the 1902 eruption of Mount Pelée.

While it is the "Frenchiest" of all the cities in Martinique with its trendy shops, elegant restaurants and high fashion boutiques, most of which are located on Rue Victor Hugo, its main allure lies in its lovely and historic park La Savane.
Within the vicinity of the park are several key attractions as well as many colonial period homes, quaint cafés and shops. These include the sprawling gardens of Balata. Dining is a must at La Plantacion, which serves sumptuous French and Creole cuisine inside an elegant colonial estate.
Traditional houses in Fort-de-France are built along the narrow streets climbing up the hills.

La Savane/ La Salvane
The 12 ½ acre park of La Savane, located in the heart of Fort-de-France, was formerly known as Jardin du Roy. It was originally intended to be a botanical site for experimentation on the island's indigenous plant species.
At present, the park is home to the city's main historical attractions. One of them is the Bibliothèque Schœlcher. The Romanesque-Byzantine library was initially put on display at the 1889 Paris Exposition, then later dismantled and shipped to Martinique. Another site is the Cathedral St. Louis, noted for its awe-inspiring stained glass windows. Just two blocks east is the Musée Départemental de la Martinique, which has on exhibit relics and artefacts of Carib and Arawak origin and an extensive collection of colonial-era furnishings.
La Savane is most famous for its statue of Napoleon Bonaparte's first wife, Joséphinede Beauharnais. Unfortunately, the statue, carved out of Carrara marble by Vital Dubray, had its head stolen by vandals.
Le Lamentin
Le Lamentin is the second largest commune in Martinique and the industrial centre of the island.
Situated in this commune is the Martinique Aimé Césaire International Airport and a hippodrome.
---