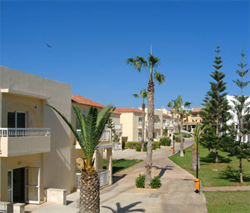 A city of antiquities, Famagusta lies on the east coast of Cyprus by the island's deepest harbour. An amphitheatre, exquisite mosaics, traditional baths, and regal tombs are just some of the Roman ruins found in this historic area.

The city is especially famous for its excellently preserved medieval architecture, such as the well-preserved Monastery of St. Barnabas, built in honour of Cyprus' patron saint; the Venetian Palace, which was converted into a prison after it was destroyed in 1571; and Othello's Tower, the citadel overlooking the harbour with a fabulous 14th century Gothic hall.
Famagusta is also where Cyprus' oldest and the biggest university, the Eastern Mediterranean University, is found. The area around it is lively and modern, especially Salamis Road, which is lined with shops and eateries.
Paralimni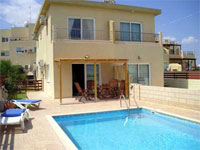 The fashionable seaside district of Paralimni got its name, which means "by the lake", from the presence of a seasonal lake nearby. Many years ago the lakebed was reclaimed for agricultural use a century ago. Windmills were widely used in the agricultural zone, but the old ones are now all in ruins and have been largely replaced by modern ones.
None of the town's early buildings remain either. The houses are all modern, with gardens burgeoning with flowers and fruit trees. The town is fairly quiet. At its heart is a small but sufficient commercial centre, with shops, supermarkets, bars, and cafés. It is a family-friendly area, with plenty of good schools. The major cities are all easily accessible from here.
Protaras
Primarily a tourist resort area, Protaras is where some of Cyprus's finest beaches can be found. The scenery is striking, with high jagged cliffs, immense natural stone arches, and mysterious sea caves along the coastline. A stark old Byzantine church, Profitis Ilias, sits on a red limestone outcrop. Protaras is also known as the land of windmills, with thousands of spinning windmills in its fields.   
The town stands on the site of an ancient city called Leukolla, where a historic battle took place in 306 B.C. Neolithic artefacts have been found here. Today, Protaras is an idyllic place with wonderful sandy beaches and clear waters that reflect the blueness of the sky.
Dozens of islets lie off the coast of Protaras. The place is ideal for family holidays. Many Scandinavian and a few British families flock to Protaras for their holidays. The most popular beach is Fig Tree Bay.
Ayia Napa
Lying on Cyprus' southern coast, Ayia Napa has beaches with fine golden sand and crystalline waters. It is an ideal site for all kinds of watersports, including scuba diving, water-skiing, windsurfing, and kayaking. It has also long been a popular place for family vacations. In recent years it has also developed a lively night scene. Trendy bands from the UK often play in its nightclubs. Its bars and discos are crowded with patrons until the wee hours of the morning. The local restaurants serve excellent Cypriot, Italian, French, Indian, and Chinese food.
The place is named for the local image of the Virgin Mary, said to have been discovered in the area's thick forest. An abbey, still in existence, was built to house this image in 1500.
---