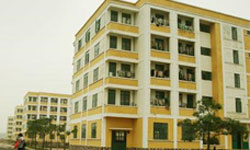 Dong Anh is an agricultural area in northern Hanoi. It once provided Hanoi with almost 80% of its fresh produce. Farming and fishing are still big occupations in the district.

In the last number of years, two of its biggest industrial zones have expanded. North Thang Long and Dong Anh provide thousands of jobs for workers in the garment, textile and electronics industries. Dong Anh has a number of public schools as well as a setup health system for its residents.

The district has number of state-owned enterprises, joint stock companies, limited companies, private companies, handicraft cooperatives, agricultural services cooperatives and business households.
North Thang Long
North Thang Long - Van Tri is a high-tech development zone in Dong Anh. It features Thang Long Industrial Park.

Thang Long Industrial Park, which covers 300 hectares, includes housing, international schools, hospitals, entertainment centres, and a dry port. The surrounding area has efficient water and electric supply systems, effective wastewater treatment, industrial roads, and highway interchange. It also has easy access to the centre of Hanoi and the Noi Bai international airport.
The park chooses international investors based on their use of clean technologies and strict adherence to international environmental protection laws.
The North Thang Long Township is a "healthy lifestyle" area developed and managed by one of the biggest real estate investors in Vietnam.
---