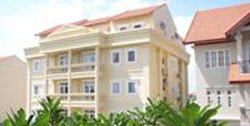 The largest district in Ho Chi Minh City is District 3 (a prime area). Many old French villas are still clustered here; while some remain as residences, others have been transformed into business offices and restaurants.

The largest pagoda in the city is in District 3. The Xa Loi Pagoda (Chùa Xá Lợi) was built in 1956 to preserve the relics of Gautama Buddha, and was the centre of Buddhism in South Vietnam. Called Sarira (which is what Xa Loi translates too), these Buddhist relics are pearl-shaped objects that were allegedly found among Gautama Buddha's cremated ashes.
In 1963, the Army of the Republic of Vietnam Special Forces raided and vandalized Xa Loi Pagoda. The raiders were armed with shotguns, grenades, tear gas, pistols and sub machines, butting and bayoneting past wooden shield barricades held by monks and nuns.
---