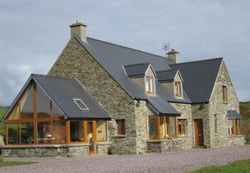 County Cork has a beautiful and diverse landscape. Along its Atlantic coast are lovely sand beaches shadowed by jagged cliffs. The rugged west is dominated by sandstone hills, but much of the county consists of fertile farmlands and floodplains. West Cork is especially known for its attractive beaches and islands; the county is popular with French, German and Dutch tourists. The variety of Cork's terrain is reflected in the Millstreet Country Park, a vast area with lakes, streams, waterfalls, and wetlands with moors, gardens, and meadows teeming with wildlife to stroll and picnic in. Rare animals are protected in Fota Wildlife Park, in a setting that closely mimics their natural habitats, while deer graze among the groves of evergreens in vast Donerale Park.
The county takes pride in its heritage and its historic buildings and institutions. The Cork City Gaol is now a fascinating museum, its 19th century conditions preserved for viewers to imagine what life must have been like for the inmates back then. The West Cork Model Railway Village depicts life in West Cork in the 1940s. Blarney Castle has become a pilgrimage site for those who seek to become silver-tongued by kissing the Blarney Stone. Known for its architecture is Charles Fort in Kinsale. Built in the late 17th century, its five towers form the shape of a star. Desmond Castle is known for its fascinating history, having been used in the early 17th century by the Spaniards and then becoming a dungeon for American revolutionaries.
Cork City, the county's administrative capital, in Ireland, is a bustling city of 120,000. It is Ireland's second biggest city after Dublin and one of its major ports. Cork City is a busy, cosmopolitan city with an international airport. The River Lee goes through it and bridges crisscross the city. Its streets are lined with cafés and pubs. Cinemas, galleries, shops and theatres draw lively crowds, and in the evenings clubs play everything from traditional Irish music to jazz and pop music.
---