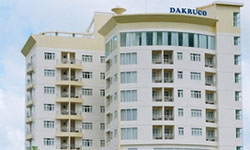 The Central Highlands region has slowly been attracting more and more visitors over the last decade. The area has some wonderful natural sites for the adventure-seeking explorer. Virgin forests and majestic waterfalls are peaceful backdrops to areas that still quietly nurse painful memories of the past wars.

The temperature in the Central Highlands is much cooler than the country's southern regions. February to April is the dry season. Dust and haze are common around this time. July to August is the wet season. Some areas are prone to flash floods. The best time here is between November and January when the rain is minimal, the weather is pleasant and the landscape is lush.
Buon Ma Thuot is a place of interest in the region. Tours of the city, surrounding villages and nearby Yok Don National Park are popular excursions for visitors. Waterfalls, folk shows and elephant rides are some of the exciting things that can be experienced on these tours.
The Central Highlands is home to a number of ethnic minority groups, especially around Da Lat, Kon Tum, Buon Ma and Plei Ku. In Plei Ku, there are ethnic minority villages that can be visited. Day-long treks can be taken to visit four of the nearby Banhar villages. Plei Ku offers a good city tour for visitors who are interested in historical wars. Plei Ku is most known for the Viet Cong attack on the US Airbase that was once stationed here. Trekking is best done to reach remote villages in places such as Kon Tum.
Lam Dong
Lam Dong is located in the Central Highlands (Tay Nguyen) of Vietnam. It is the highest and largest plateau province in the region. It enjoys a cool climate, and has beautiful scenery of thick pine forests, hills, falls, and lakes. Lam Dong and the rest of the Central Highlands are largely agricultural, and the southern lowlands are cultivated with coffee and tea plantations, vegetables and fruits.
Da Lat is Lam Dong's capital. The town is very attractive and is the main source of beautiful blossoms in Vietnam. Historically it was used as a French retreat, and there are still many colonial villas in the city.
The province of Lam Dong is home to a large population of Kinh (Vietnam's majority ethnic group) and minorities Chu Ru, Kho Mu, Hoa, Ma, Nung, and Tay.
Da Lat/Dalat
Da Lat City, known as the "City of Flowers" and a honeymooners' paradise, is the capital of Lam Dong province in the Central Highlands. Pine forests cover its hills. Its pleasant climate and wonderful scenery lured the French colonials to make the city their summer retreat. Da Lat continues to attract international tourists and holidaymakers from nearby Ho Chi Minh City.