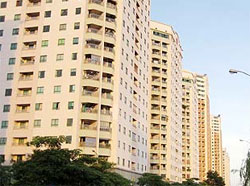 Cầu Giấy (a prime area) is an up and coming urban district in Hanoi. Keangnam Hanoi Landmark Tower, the tallest building in Vietnam, is found here, as well as the new urban area and commercial centre, Trung Hoa Nhan Chinh.

Currently, the government is at work developing Cầu Giấy. The plan is to divide the district into six zones, each with its own group of basic facilities such as schools, supermarkets and medical services. Business and residential buildings will also be constructed in designated areas. The district plans to provide homes and jobs to 27,000 people. A spacious community green park will also be built, complete with fountains, gardens and covered walkways.

Cầu Giấy holds some historical significance for Vietnam, particularly because of its bridge. Cầu Giấy literally means "paper bridge", and most likely got its name from the old market next to it that used to specialize in paper products. The area was the gateway to Thăng Long Citadel, so Cầu Giấy has its share of military action. It was on the bridge that Vietnamese rebels ambushed and killed French troops in 1873 as well as in 1883. In the 1950s the French Expeditionary Corps used Cầu Giấy as a communications base.
While the district's military and historical significance is a thing of the past, it continues to draw tourists. The Vietnam Museum of Ethnology, housed in a French-style building, displays the recreated homes, tools, clothing and other artefacts of ethnic Vietnamese minorities.
Trung Hoa Nhan Chinh
Trung Hoa Nhan Chinh is considered Hanoi's new centre. It has the most modern constructions in the city. Civil construction in the area began in 2002, after which a series of commercial centres, high-rise apartment building complexes (25- to 30-storey) and high-grade hotels followed. Some of these hotels have office spaces available. The area has modern spacious villas and cheap apartment housing for students and low-income workers.
Trung Hoa Nhan Chinh has a large population of expats, owing to its modern facilities in a well-planned setting and eco-friendly environment. It is conveniently situated near international schools, the market in downtown Dong Xuan, and Hoan Kiem Lake, the heart of Hanoi City.
---