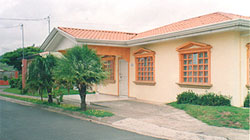 In the fertile Central Valley lies the province of Cartago. Its capital, also named Cartago, is one of the oldest towns in Costa Rica. It was even the country's capital for about 300 years, before the country's first president, Juan Mora Fernandez, moved the seat of government to San José.

Cartago City has some historic ruins and pilgrimage sites. The most visited church in the province is the Basilica de Nuestra Senora de los Angeles, which houses the tiny figure of La Negrita, or the Black Virgin.
Cartago has many national parks, the most photographed of which surrounds the active Irazú Volcano, much photographed for its mineral-rich, misty green crater lake.  
In the town of Paraíso is the internationally recognized Lankaster Botanical Gardens, which grows a remarkable collection of orchids and other plant species.
Orosi Valley has a scenic view of Reventazon River, famous for its rapids, which have drawn white-water rafters to the province.
Cartago's economy once relied solely on agriculture. At present, its information technology industry is strong and it has the important Costa Rica Institute of Technology, a public university focused on excellence in engineering, computer science, and business administration.
Paraiso
Paraíso, situated southeast of Cartago City, certainly deserves its name for its beautiful mountains, hills and rivers, and exceptionally abundant flora. The small farming town, once largely inhabited by indigenous people, enjoys fresh air and a cool climate.
The University of Costa Rica's Lankaster Botanical Gardens grow over 3,000 plant species—mostly orchids, but also bromeliads, heliconias, cacti, bamboos, and palms. The garden's secondary forest protects numerous species of birds, insects, small mammals, and reptiles.
Paraíso has many sodas—family restaurants with conveience stores—and a farmers' market that sells vegetables and fruits at very low prices. The Paraíso Shopping Mall has fast food outlets, a movie theatre, grocery stores, and a pharmacy.
Orosi Valley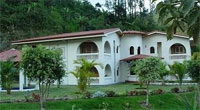 Southeast of Cartago is the peaceful and scenic Orosi Valley. The valley is rich in waterfalls, rivers, and hot springs. Dark green pine forests cascade down hills and mountains. Sprawling coffee plantations add to its pastoral appeal.

The Spanish were mesmerized by the valley. Remnants of their settlements here can be found today. In the middle of the valley lies the colonial town of Orosi. The town has some thermal spa resorts, swimming pools and a soccer field, but rustic village life prevails.
Orosi boasts one of the country's oldest churches, the Iglesia de San José de Orosi. It was built in 1743 and features a magnificently carved wooden altar and beautiful religious paintings with Mexican influences.
 
Mirador de Orosi, a public park, provides a scenic view of the valley and the Orosi River, which feeds the winding Reventazon River. The larger river is a great choice for white-water rafting. Lake Cachi, hidden by pine forests, is a quiet spot for boating and trout fishing.
Properties in Orosi Valley vary. There are cabins that overlook the valley and Lake Cachi. There are houses with manicured tropical gardens and fruit trees. There are also farms near the rivers and springs. Some of the area's coffee plantations have cafés and restaurants with a beautiful view of the valley.
---