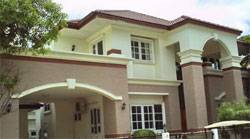 Known to the Thais as Krung Thep, Bangkok is one of the most dynamic capitals in Southeast Asia. It occupies a total area of 1,568 square kilometres and is home to a tenth of Thailand's population.

Bangkok is in the Central Plains and is geographically divided by the Chao Phraya river system. It has a tropical monsoon climate, with rainfall mostly during September to October. As the city is only about two metres above sea level, flooding is a big problem.
Much of Bangkok is very modern and metropolitan, dotted with skyscrapers and streets filled with markets selling inexpensive wares.
Bangkok is the heart of Thailand, its commercial, spiritual, cultural, diplomatic, financial and educational centre. The majority of the country's private and public universities and Buddhist schools are in the city.
Public transportation in Bangkok is varied. The city has one of the most extensive inner city bus lines in the world. Its efficient rail system includes the elevated Skytrain and the MRT subway system. There is also the ubiquitous tuk-tuk (a motorcycle-run enclosed wagon) that take commuters anywhere within the city.
Expansion of the MRT is being carried out, following the construction of the Suvarnabhumi Airport Link, a high-speed elevated rail linking the city to the airport.
Bangkok is divided into 50 districts. These include Bang Khun Thian, the only part of Bangkok with a coast—and the shore is which is lined with mangrove forests and shrimp farms, with good seafood restaurants and one of the biggest shopping malls in Thailand farther inland; Taling Chan, an agricultural zone whose produce is sold in its popular weekend floating market; Chom Thong, known for temples dating as far back as the Ayutthaya kingdom, including the royal Wat Ratchaorasaram; Don Mueang, the location of the Royal Thai Air Force base; and Lat Phrao, which has a lot of accommodations for students and young people but has also one of the highest crime rates in the city.
---