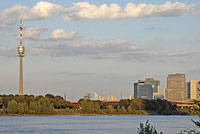 The 22nd District, Donaustadt, and its neighboring district of Floridsdorf (23rd District) together make up the area known as Transdanubien (across the Danube), since it is situated on the east bank of the river. Donaustadt, the city's most sizable district, is a former rural area that has managed to retain a large percent of its greenery. In fact, more than half of the district is made up of green spaces such as Donaupark. In addition, parts of Donaustadt still exhibit a rustic character, with traditional villages and extensive farmlands.
Other parts of the district have undergone quite a bit of development. Kagran is a highly modern suburb where you can find the Vienna International Centre (also called UNO City), the Austria Centre, and the Donauzentrum, which is Vienna's largest department store. Nearby, the major nightlife areas of Copa Cagrana and Sunken City offer an impressive variety of restaurants, bars, and nightclubs.
Another popular recreational area in Donaustadt is the Donauinsel. This is a long and narrow artificial island on the Danube River where you can enjoy many fun outdoor activities: walking, jogging, cycling, and even swimming and sunbathing.
Donaustadt is generally considered a very affordable residential district, and additionally, is known for being the area in which "the real Viennese" live. Some may find the district drab and uninteresting, especially compared to central Vienna; how you feel about it will depend on your personal tastes.
There are two international schools within Donaustadt: the Vienna International School (VIS), and the Vienna Christian School, an Evangelical Christian international school, on Wagramer Strasse.
---