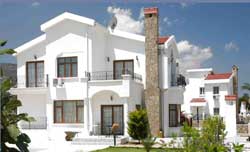 Property prices in Cyprus are expected to slide further over the course of 2012, a new survey has predicted.

An online poll carried out by Cyprus Property News revealed 70 per cent of respondents anticipate the value of real estate in the country will fall this year, with just 11 per cent predicting a rise.

The remaining 19 per cent of those who were questioned believe Cyprus property prices will remain unchanged.

This comes despite a host of measures introduced by the Cypriot government in a bid to boost the island's real estate market, the publication pointed out.

Among the changes that have recently been put in place are a six-month suspension of property transfer fees on the first sale of a home and reductions in value-added tax for first-time buyers who are permanent residents in Cyprus.

Last month, the news provider reported on a presentation by lead consultant with Leaf Research Pavlos Loizou, who also predicted a further decline in real estate values in Cyprus, although he did state his belief that the market is approaching its lowest point.