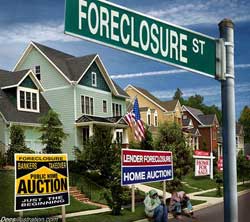 The deal that would force banks and mortgage companies in the U.S. to pay up to $25 billion in penalties is now ready to be signed.
With more than 40 U.S. states approving the proposed mortgage settlement deal, banks and mortgage firms will be more reluctant in mistreating underwater home loan borrowers.
Iowa Attorney General Tom Miller said in a statement that a proposed mortgage settlement now being finalised for more than a year will move forward with more than 40 states joining the deal before the deadline set on Monday.
"Federal and state officials, as well as representatives from the banks, continue to address matters that they must complete before finalizing any settlement," Miller added.
In the said proposal, state governments are given more power to penalise banks if found mistreating borrowers especially those with soured mortgage loans.
The core group of banks involved in settlement talks are Bank of America Corp, Wells Fargo & Co, JPMorgan Chase & Co, Citigroup Inc. and Ally Financial Inc
An exclusive report from Reuters said that under the said proposed settlement the broadened powers of the state and could enforce monetary penalties of as much as $5 million per violation of a bank.
Each state will create a "monitoring committee" to detect the violations of banks servicing home loans.
This proposal has been devised to heed calls from left-leaning activist groups that the states and the federal government led by the Obama administration are too lenient to the private banking institutions.
Nevertheless, the federal authorities needed to negotiate with all the state governments to have single policy to follow because others want to enforce higher penalties. The agreement will also make sure state government reserve their ability to file more mortgage-related suits.
U.S. Housing and Urban Development Secretary Shaun Donovan said in a briefing last week at the White House, the state governments only have a few days to sign in the agreement.
The settlement will be filed as a consent judgment in federal court in Washington, D.C. and will be imposed for 3-1/2 years, the Reuters report indicated quoting the pending deal's enforcement terms.

Source: Reuters