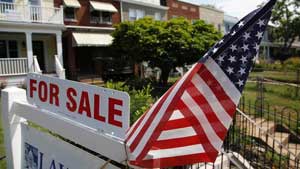 Home prices in the United States have surpassed the previous record set during the housing boom in 2006, according to the recently-released Standard & Poor's Case-Shiller index.
The average home price in September increased 0.1% above the July 2006 peak. However, the index remains about 16% below peak if adjusted for inflation. The Case-Shiller index measures repeat sales of single-family homes.
Home prices in America registered a month-on-month increase of 5.1% in September, the 53rd consecutive month of positive gains.
"The new peak set by the S&P Case-Shiller CoreLogic National Index will be seen as marking a shift from the housing recovery to the hoped-for start of a new advance," David M. Blitzer, managing director and chairman of the index committee at S&P Dow Jones Indices, said in a statement.
Home prices peaked in July, 2006 and then plummeted during the 2007-07 housing crisis. They bottomed out in 2012. Fueled by historically low mortgage rates, homes prices finally started an upward climb in 2013.
Seattle, Portland, and Denver had the biggest year-over-year gains among the 20 cities. Seattle had an 11% annual increase. Home prices increased 10.9% increase in Portland, while by 8.7% in Denver. The weakest market in terms of price gains was Washington with an increase of just 2.7%.
Experts say that price gains signals a healthy recovery in the residential property markets, rather than a bubble-like situation.
"Housing indicators are giving positive signals: sales of existing and new homes are rising and housing starts at an annual rate of 1.3 million units are at a post-recession peak," said Blitzer.