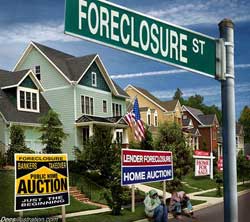 In a sign of strengthening housing market, the U.S. reported the lowest number of foreclosed properties for 11 years, according to ATTOM Data Solutions, a multi-sourced property database curator.
Properties with default notices, scheduled auctions or bank repossessions were down 13% in the third quarter of this year from the previous quarter and down 35% from a year ago to the lowest level since the second quarter of 2006.
"Legacy foreclosures from the high-risk loans originated between 2004 and 2008 have largely been cleared out of the distressed market pipeline," said Daren Blomquist, senior vice president at ATTOM Data Solutions.
He further added, "meanwhile loans originated during the housing boom of the last five years are posting foreclosure rates below historic averages, with the notable exception of FHA loans originated in 2014, which have the highest foreclosure rate of any FHA loan vintage since 2009 — 29% above the historic average for FHA loans although still 55% below the peak in 2007."
Third quarter foreclosure activity was below pre-recession averages in 123 of the 217 metro areas analyzed in the report (57%) including Los Angeles, Chicago, Dallas, Houston, and Miami.
However some 51 metro areas (24% of the 217 analyzed in the report) posted a year-over-year increases in foreclosure starts in the third quarter. They include Dallas-Fort Worth, Texas (6% increase); Denver, Colorado (12% increase); Cincinnati, Ohio (5% increase); Cleveland, Ohio (29% increase); and Columbus, Ohio (23% increase).