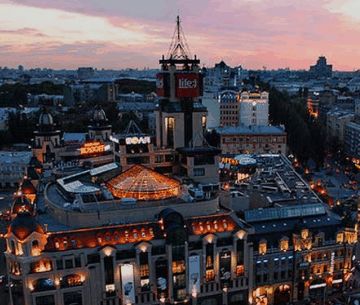 Trend: house prices in Kiev fell 5.13% y-o-y in Q2 2017
House prices have been stabilizing in Ukraine as the hryvnia has steadied, and as the economy has begun to recover - and though the trend is still down, the decline has been more gradual recently. House prices fell 1.67% quarter-on-quarter in Q2 2017.
Ukraine's economy grew by 2.3% last year, after declines of 9.8% in 2015, 6.6% in 2014 and 0.03% in 2013.
House prices are 68.8% below their September 2008 peak of US$3,627 per sq. m, according to S&V Development. There was a massive decline in house prices in 2014 and 2015 because of the hryvnia devaluation due to the Russian war.
Analysis: sales agreements were about 15% higher in the first six months of 2016 than in the same period the previous year. There has also been increased interest in Kiev's properties from foreign investors.
Rents, rental yields: not available for Ukraine
Kyiv apartment costs are around €2,807 per sq. m.
Recent news. The economy is expected to expand by 2% this year and by another 3.2% in 2018, according to the IMF.