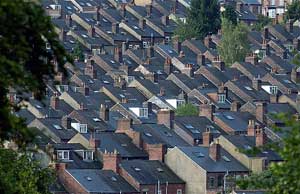 There is a shortage of homes in the UK housing market, according to the latest Royal Institution of Chartered Surveyors (RICS) report. Their evidence?In January 2014, the number of houses for sale hit its lowest point, while potential buyer numbers continued to surge across the UK. However supply may increase during the traditional spring bounce, according to some agents surveyed.
Prices in the UK housing market moved 9% higher during the year to January, helped by first-time buyers. A typical home now costs £14,000 more than in the same period last year. January saw the 13th consecutive monthly price rise, while the rise during the month was 0.7 percent. The average cost of a home in January 2014 was just under £176,500. Annually, prices have risen 8.8% during the year to January, the highest rise since May 2010.
There were 73,700 borrowers across the UK buying their first house during the last three months of 2013, representing a 32% increase over last year, according to the Council of Mortgage Lenders.
First time buyers have increased more than any other type of buyer, note Connells, the property valuation company. This is perhaps the most important reason for spike in the housing demand. In addition, rising home prices in many parts of the country are driven by shortage of properties, according to RICS' global residential director, Peter Bolton.
While increased activity in the property segment during the New Year is pretty much a norm, January 2014 was nearly a stampede, according to John Bagshaw, Connells' corporate services director. "The seasonal rebound between December and January has been significantly stronger than we usually experience," he said.
An important factor is the government schemes, the Funding for Lending and Help to Buy schemes, which have been accessed by a large number of first time buyers. In addition, lenders are today more confident than during the past years, and therefore willing to target new buyers, according to Bagshaw.
According to the RICS report, the level of homes sold was 21.1 per chartered surveyor over the three previous months, which represents a considerable increase over the same period in 2013, when the figure was just 16. The future outlook is appears positive with transaction numbers and future prices likely to increase over the next three months.
Yet, some analysts are worried about the strong start to 2014 leading to a likely bubble. They had expected the Bank of England to take a timely action to prevent the bubble. The figures appeared worrisome to the housing charity Shelter, who look forward to "bigger, bolder" ideas from the government to provide affordable homes.
However the government is focused on an election victory, hence its artificial measures to boost to the UK's already-overvalued property market. The Bank of England has also assured the government that there will be no official interest rate increase before the elections.