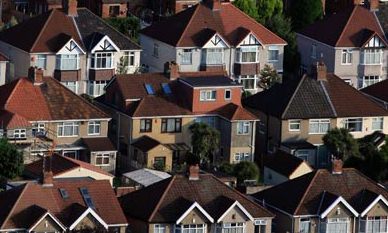 House prices in the UK are likely to drop by 30% over the next four years, spelling trouble for home owners due to shrinking equity values, according to Capital Economics.
The UK's current housing boom has priced the majority of middle-class buyers out of the housing market. Prices need to fall by at least 22% to bring housing back to an affordable level, says the research house.
"The message is clear. Houses are now so over-valued that a prolonged period of falling prices is on the cards," says Roger Bootle, managing director of Capital Economics. Bootle is a former advisor to the Tory government and also a former chief economist at HSBC.
Housing prices have risen steeply in the UK over the past couple of years. However, several London districts have reported a correction in the last few weeks.
The fundamental problem is that many buyers have taken on bigger mortgages, at higher loan-to-income ratios, than would be affordable in case of a rise in interest rates. Median home prices are currently 5.7 times the average salary, according to Capital Economics, and the ratio is significantly higher in London.
"History tells us that such a high ratio cannot be sustained. We should therefore expect a period when house price inflation either slows, or turns negative," Capital Economics said.
It wouldn't take much for housing price to slump, the report says. "All it would take is for households to be unwilling to pay the price asked...In fact, there are already signs that the housing market boom is over in London ... history suggests that it cannot be long before the rest of the UK follows."
The report predicts that such a huge fall in home equity will have substantial entomic and social impacts: Young families would be forced to stay in cramped houses and home owners would be unable to move in search of new jobs.
The Bank of England recently introduced new mortgage controls, effective from October 1, limiting loans to 4.5 times income. Currently 19% of London new mortgage loans are above this level. Banco Santander has already capped loan-to-income ratios at five times income for all residential applicants, while Nationwide has introduced a limit of 4.75 times income. Both Lloyds Banking Group and Royal Bank of Scotland have capped multiples at four times income for loans above £500,000.
This follows the Mortgage Market Review (MMR) measures introduced by the Financial Conduct Authority (FCA) in April, which brought in a wide range of affordability checks. Customers now need to satisfy lenders that they can afford their mortgage, and must provide evidence of income in all cases. The MMR contains a requirement for lenders to stress-test borrowers with lock-in periods of fewer than five years against the standard variable rate plus an additional percentage, and requires lenders to assume at least a 1 per cent increase in base rate. The vast majority of borrowers must take formal advice, either from the lender, a mortgage broker or a financial adviser.
These measures are already slowing lending. Banks and building societies are understaffed because advisers must have specialist qualifications. Already there are long delays for appointments in some areas of the UK, particularly London and the South East where the property market is booming. Brokers and financial advisers are seeing an increase in inquiries as a result, adding to their own wait times.
Some borrowers who already know exactly which mortgage they want may be able to apply directly online or by post without taking advice; however, they must be able to provide full details of the deal without any input from an adviser. In addition "high net worth borrowers", with an annual income of more than £300,000 or assets worth more than £3m, will be able to take out a loan without advice.