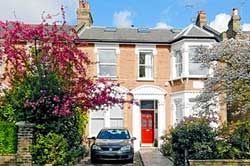 The UK government has been given the red light when it comes to the country's housing market.
A newly released report jointly published by the Chartered Institute of Housing, the National Housing Federation and housing charity Shelter assesses the government's actions in 10 policy areas, awarding it a red, green or amber light for each one.
The government was given a red light on four issues, including:
Housing supply. Total new housing starts and completions remain at record low levels; public investment in affordable housing has also been reduced.
Help with housing costs. Housing benefit cuts have adversely affected many lower-income households.
Affordability of the private rented sector. Private rents, already high to begin with, continue to rise.
It was given an amber light on three areas, including home ownership -- with house prices remaining volatile and the number of buyers falling.
The government scored two green lights: for a rise in the number of social lets going to tenants (suggesting improved mobility in the social sector) and for the falling number of empty homes.
Source: The Guardian