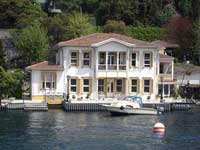 Property prices in Turkey are set to continue its steady pace of increases especially rental prices this year.
Prices of new properties in Turkey had already recorded jumps in November 2011, the REIDIN New Home Price Index indicated a 9.88% jump y-o-y.
Trademarked projects in the of European side of Istanbul increased 1.17% month on month while those on the Asian side were up 0.47%.
The index also shows prices for existing homes increased 0.89% in Turkey overall, 0.93% in Adana, 0.55% in Ankara, 1.27% in Antalya, 1.08% in Istanbul and 1.14% in Izmir. Prices were stable in Kocaeli and decreased 0.11% in Bursa during December 2011.
Rental prices for existing homes moved up 0.70% in Turkey overall and were up 1.54% in Adana, 1.69% in Antalya, 1.09% in Istanbul; 0.39% in Izmir and 0.45% in Kocaeli. They were unchanged in Ankara and fell 0.65% in Bursa.
With further economic expansion seen for Turkey this year, residential property market prices are also seen growing as well, property specialist Gem Invest said in a note to clients.
The geographical part of Turkey on the side of Europe side is good place to invest, according to Gem Invest.
Among the best locations to invest include Istanbul's university campus areas where significant infrastructure development is currently under way.
"The best bargains can be found in outlying districts, but if your budget stretches far enough, the city centre still offers excellent yields even with high prices taken into account," Gem Invest said.
For resort properties, Antalya and Fethiye and for an outside bet Kalkan which provide the best prospects along Turkey's popular coastlines. Gem Invest said yields of up to 8% are possible in these locations with average yields around 6% which is higher than you can expect in holiday locations elsewhere in Europe. Modern seafront homes in Kalkan for example can generate up to £3,000 a week in peak season.
Source: ibtimes.com