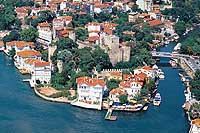 Turkey has reported an increase in the interest from foreign buyers, in a sign that the Turkish government's incentives for foreign investment in residential real estate may be yielding results.
A total of 1,684 foreign nationals bought properties in August, an increase 11.4% compared to the same month the previous year, according to the Turkish Statistical Institute.
Total property transactions (involving domestic buyers and foreigners) of 120,198 houses were reported in Turkey in August by the Turkish Statistical Institute.
Of sales to foreigners, nearly 31% were in Istanbul, the country's largest city by population. The number of houses sold to foreigners in Istanbul rose 20% in August compared to the same month last year.
Antalya came second with 376 properties, while the Marmara province of Yalova came third with 103 units.
Iraqis topped the list of buyers with 317 properties, followed by Saudis with 198 units, Kuwaitis 135, Russians 95 and Afghans 81.
Turkey has started offering citizenship to foreigners who buy property worth at least $1 million. The scheme was announced after sales of properties to foreigners dropped nearly 19% in 2016 compared to the previous year.
The decline was in contrast to an increase in domestic real estate sales, which increased 4.5% to 1.2 million properties in the first 11 months last year.
Experts said that following the incentives offered by the government, developers started marketing large housing projects in foreign countries aggressively, contributing to the increased interest from overseas buyers.
Turkey is planning to further reduce the minimum investment threshold for citizenship in the coming months, according to local media reports.