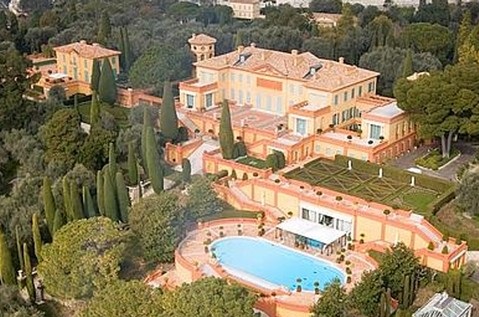 Spread over 35 acres, built in the 18th century, Villa Les Cédres was once owned by the Belgian King Leopold II.
The current owner of this 187-year-old house - Italian distiller Davide Campari-Milano SpA – claims that the combination of history, luxury, and its prime location along the coast of Saint-Jean-Cap-Ferrat near Nice, justifies the asking price.
If the home sells for the list price, it will be the most expensive house in the world. It has been listed for sale for £311 million (US$ 410 million).
The house is on the Riviera - one of the priciest locations in France. Celebrities such as Elton John and many millionaires and billionaires own holiday homes in the area. Microsoft Corp co-founder Paul Allen and composer Andrew Lloyd Webber will be your neighbors if you close the deal.
With private gardens facing the coast, the house has 14 bedrooms and is spread over an area of 18,000-square-foot. The house was built in 1830 and bought in 1850 by the mayor of Villefrance-sur-Mer, who operated it as an olive farm. King Leopold II of Belgium II bought it from the descendants of the mayor of Villefrance-sur-Mer in 1904 The Marnier-Lapostolle family, best known for producing Grand Marnier liqueur bout the house in 1924, about 15 years after Leopold's death. They owned it for 80 years until 2016 when Campari acquired Grand Marnier's parent company.