Celebrities have also felt the forbidding pinch of the financial crisis gripping middle-income homeowners as some are actually selling their property at a loss if not completely losing them as foreclosed assets.
According to reports some of the rich and famous blamed financial mismanagement or poor judgment of investments that made them lose millions of dollars of their earnings.
Celebrities Selling at a Loss: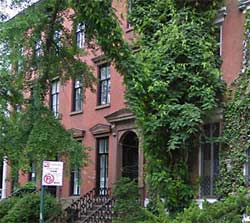 Robert de Niro. The actor, best-known for his roles in films "Raging Bull" and "Taxi Driver" has been known for his extensive property investments in New York. He is now selling his 19th century townhouse at 14 Saint Luke's Place, which according to documents was purchased back in 1975.
Priced earlier this year at $14 million, the property is now auctioned for $11.995 million, a report from the NY Daily News revealed.
Mr De Niro's five-storey, 22-foot-wide property, which was home to poet Marianne Moore during the 1920s, is on one of the West Village's most storied and coveted blocks, between Hudson Street and 7th Avenue.
Sharon Stone. Another Hollywood A-lister, brought to fame by her role as the sultry psycho killer in "Basic Instinct" has also moved to sell her L.A. property for $8.995 million, although she purchased the property in 2006 for $10.995 million, according to World Property Channel.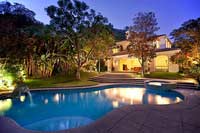 The gated, Mediterranean style estate, sits in five acres replete with bridges, waterfalls, fruit trees, a meditation garden, a swimming pool and a tennis court with viewing pavilion, the report described.
Sylvester Stallone. The actor known for his roles in "Rambo" and "Rocky" had also parted from his 1.75-acre property in Thousand Oaks, California, which is a vintage lakefront home retreat that has a boathouse, guest quarters, and caretakers' quarters as amenities.
Mr. Stallone acquired the property in 2008 for $4.85 million and is selling it for $4.495 million, public records said.
Celebrities with Foreclosed Assets
Nicholas Cage. Premiere actor Nicholas Cage lost his $35-million LA property to foreclosure. Citibank, early this year, confiscated this property located in Copa de Oro Road, Los Angeles, California because of a financial manager's mismanagement.
Mr. Cage, according to Forbes.com, was forced to sell four properties in order to pay tens of millions owed in government taxes.
Julius "Dr.J" Erving. The famed basketball player of the NBA lost his property in St. George, Utah after failing to sell it for $2.25 million in 2009. He moved to Atlanta and in 2010 creditors begun the foreclosure process. Last autumn, he defaulted on his payments on his loans forcing the bank to confiscate the property.
Sources: Forbes.com and World Property Channel