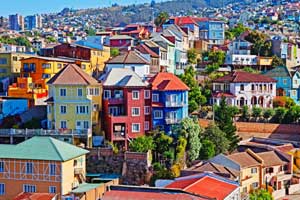 Trend: house prices up 2.11% y-o-y in Q2
Chile's housing market remains weak. On a quarterly basis, house prices increased slightly by 0.79% in Q2 2017.
Chile's economy grew by about 1.6% in 2016, the lowest growth since 2009 when the economy contracted by 1.6%, according to the IMF.
Analysis: the impact of last year's imposition of 19% VAT on property sales by "habitual sellers" such as real estate companies is diminishing
Home sales in Greater Santiago (after a significant drop last year) rose by 46% to 7,324 units during the year to Q1 2017, according to the Chilean Chamber of Construction (CChC), compensating for last year's slump.
Rents, rental yields: moderate yields in Santiago at 4.26%
Santiago apartment costs are low at around $2,771 per sq. m.
Chile: city centre apartment, buying price, monthly rent (120 sq.m.)
Buying price
Rent per month
Yield
Santiago
$332,520
$1,181
4.26%
Recent news. The economy is expected to expand by 1.7% this year and by 2.3% in 2018.