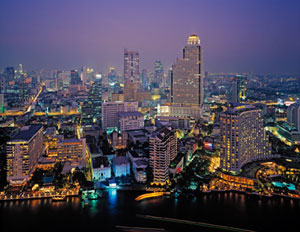 Buying in Thailand? Make sure the developer is likely to get an environmental impact assessment (EIA) approval for his project - or your money will be returned after a delay, at best.
This week, two completed condo projects by Grand Unity Development Co. joined a growing number of condo projects already launched for sale, which have failed to win environmental impact assessment (EIA) approval. The company will return all booking money, plus interest, as stated in the contract, said Neramit Srangiam, the developer's managing director.
The projects are U Delight @ Phaholyothin Station, whose 400 units were launched September 2012, and Condo U @ Phaholyothin Station, whose 409 units were offered in March 2013. Both are on Phahon Yothin Soi 23.
Thailand's Real Estate Information Center (REIC) says that the number of new condominium units expected to be sold this year will be between 70,000 and 75,000 units, up 11-19% on last year.
However of 301 condo projects proposed in 2102, only 98 managed to get EIA approval. Nine residential projects in Greater Bangkok were canceled or suspended in the first half of this year after failing to get EIA permits, according to Thailand's Agency for Real Estate Affairs (AREA).
Two years ago, Noble Unite, a condo project by Noble Development Plc., a company listed on the Stock Exchange of Thailand (SET), also flunked EIA screening. It was recently relaunched under a new name - Noble Revo Silom, after design revisions. The value of land on Surasak Road where the project sits has doubled from 500,000 baht per sq. wah (4 sq.m.) two years ago to almost 1 million baht per sq. wah now.
Demand is strong from foreign buyers, many originally tourists who became property investors after falling in love with the Thai quality of life. But the EIA's tight standards are squeezing supply. This makes the acquisition of units all the more attractive - if you put money down on property that actually gets built!