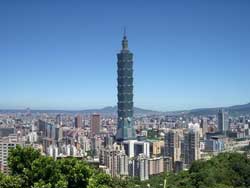 Taiwan's housing market remained sluggish last month as new construction volume and value fell 20 percent and 40 percent respectively from September on deepening uncertainty as the presidential election draws near and the global economy falters, a report by the Chinese--language Housing Monthly showed last week.
The monthly report flashed a "yellow-blue" signal for home sales, indicating that the market is at risk of recession in the coming months.
"The three-way presidential race adds to public unease about the nation's future political landscape, driving developers and brokers to cut advertisement money," the report said, referring to the addition of People First Party Chairman James Soong to the Jan. 14 presidential elections.
The total score for the housing market index stood at 40 last month, down one point from September, while the number of prospective buyers declined 20 percent, the report showed.
A reading between 33 and 42 suggests a downturn, while a smaller score indicates recession, it said.
"The sentiment made developers reluctant to launch new construction projects, pushing new pre-sale housing projects down 40 percent last month from one month earlier," the report said.
A total of 62 percent of new pre-sale projects are concentrated in New Taipei City, Taoyuan County and northern Hsinchu, where housing prices are more affordable, the report said.
Prices for pre-sale housing showed little change at NT$720,000 (US$23,980) per ping (3.3m2) in Taipei and NT$340,000 per ping in New Taipei City last month, the report said, adding that some projects in Taipei were higher priced than in September.
Transactions contracted 20 percent last month from one month earlier, while advertisement money fell 13 percent, the report said.
The room for price concession narrowed from September, at 12.6 percent, to 12 percent last month because of a sharp decline in supply, the report said.
The second-hand housing segment was equally dismal last month as transactions in New Taipei City plunged 40 percent compared with the same period last year, city government data showed.
Last month saw only 6,178 units transferred, less than the low of 6,278 units recorded during the 2009 global financial crisis, said Sinyi Realty Inc, the nation's only listed broker.
Stanley Su, head of Sinyi's research department, linked the quiet market to the ongoing equity market corrections at home and abroad.
H&B Realty Co., the nation's largest real--estate broker by number of franchises, said that housing prices remained virtually unchanged at NT$514,000 per ping in the capital last month, compared with NT$518,000 per ping the previous month, while it took an average of 70 days to close a deal last month in Taipei City, from an average of 53 days in September.
Source: Taiwan Times