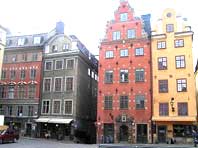 Trend: house prices up 7.5% y-o-y in Q2
Despite new lending curbs to restrain speculative demand, the nationwide house price index surged 7.5% during the year to Q2 2017, almost equal to the previous year's 8% growth. House prices increased 2.34% q-o-q during the latest quarter.
Analysis: The housing market remains strong.
Dwelling starts in newly constructed one- or two-dwelling buildings fell by 23.4% y-o-y in Q2 2017, while completions dropped 2.2%.
Rents, rental yields: yields figures are hard to get.
Stockholm apartment costs are around €6,991 per sq. m.
Sweden: city centre apartment, buying price, monthly rent (120 sq. m.)
Buying price
Rent per month
Yield
Stockholm
€838,920
n.a.
n.a.
Recent news: The Swedish economy is expected to grow by 2.6% this year and by 2.2% next year, a slowdown from annual growth rates of 3.3% in 2016 and 4.1% in 2015, according to the European Commission.