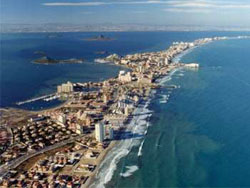 Trend: house prices up 0.85% y-o-y in Q2 2017
Spanish house prices are recovering, after nearly a decade of declines, though during the latest quarter (Q2 2017) house prices fell 1.29%. Foreign demand for property in Spain rose 8.1% in Q2 compared to the same period last year, with EU and global buyers offsetting the British decline. Local demand also rose in Q2 by 11.1% to 103,813 – the first time quarterly home purchases by Spanish nationals have risen above 100,000 since the real estate market crashed a decade ago.
Analysis: Demand is now rising strongly.
The rise in foreign transactions was mainly driven by foreigners buying homes on the coast and in cities like Barcelona and on the Costa del Sol, one of the country's most popular areas with overseas purchasers. Most foreign homebuyers are Britons, French, Germans, Belgians, Italians and Swedes.
Rents, rental yields: yields in Barcelona are now moderately good at 4.70%
Madrid apartment costs are around €4,382 per sq. m.
Spain: city centre apartment, buying price, monthly rent (120 sq.m.)
Buying price
Rent per month
Yield
Barcelona
€570,480
€2,092
4.40%
Madrid
€525,840
€2,060
4.70%
Recent news. GDP growth for Spain is forecast to be 2.8% in 2017 and 2.4% in 2018, according to the European Commission, reducing unemployment to 15.9%.