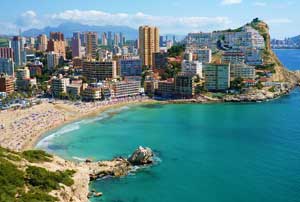 Foreign and domestic property investors are bulk-buying foreclosed homes in Spain, to rent out. On average, repossessed residential properties in Spain's major urban centres can be had at 71.6% below original value, according to Fitch Ratings.
Last year, legislation was passed making investing in rental properties more enticing. Under the new law, rental rates have been de-linked from inflation and may now be increased by the landlord more frequently. The new law also reduces the duration of leases, as well as the waiting time for evicting non-paying tenants.
Foreign owners renting out their property to working people under 30 years of age can even, under the new law, claim tax relief ranging from 60% to 100% on the rental income.
In contrast, tax breaks for individual home buyers have been set aside. Ordinary citizens, suffering from a shrinking disposable income and the credit squeeze, are now finding it harder to enter the property ladder, leading to expectations that demand will dramatically rise for rental homes in coming years.
Spain's two-year old recession has ended. The country saw 0.1% growth in the third quarter, according to the National Statistics Institute.
Major property investors like Blackstone Group and Goldman Sachs focus on mass purchases of foreclosed properties, particularly apartments that are already occupied, in Madrid and other urban centres where housing demand is high and tenants can generally afford to pay rent.
In July, Blackstone Group bought 18 apartment buildings from the city government of Madrid for 125.5 million euros ($173 million). In August, Goldman Sachs and Azora Capital bought 32 social-housing developments from the regional government.
Madrid is offering another foreclosed property portfolio with 1,458 housing units and 1,588 garages in and around the capital. The minimum asking price is 67.2 million euros (US$90.25 million). Blackstone Group and Goldman Sachs are reportedly bidding.
Sareb, the state's bad bank, must sell soured real estate assets worth 1.5 billion euros (US$2.0 billion) this year. To date, it has already disposed of properties worth 1.2 billion euros (US$1.6 billion). It is reportedly putting another package on the market which includes land ready for construction in the Madrid area worth 350 million euros ($477 million).
Most bulk buyers bid on foreclosed homes sight unseen, especially when there is stiff competition from other investors. In Spain, this can lead to costly consequences. Spain has a big and growing problem of squatters. It can take three years to evict them, often entailing messy court battles. Meantime, the investor cannot resell or rent out the property.