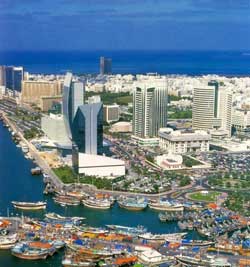 Dubai's once booming property market is unlikely to recover until 2016 as oversupply in the market will keep prices down, it is claimed.
"When you look at Dubai, yes the market is oversupplied on the residential side. We don't see recovery over the next five years. New construction, new projects are unlikely to happen and the same would hold true for the commercial market," Martin Kohlhase, senior analyst, EMEA Corporate Finance at ratings agency Moody's, told the Reuters Middle East Investment Summit in Dubai.
Dubai's housing market will plummet another 10% before it stabilises, a Reuters poll showed earlier this week, adding that the market is oversupplied by about 25%.
Brokerage AlembicHC said last month it would take at least three years for supply and demand to reach equilibrium, while Rasmala Investment Bank's Saud Masud said it would be 2020 when property prices get back to 2008 levels assuming five or six years of recovery.
The situation in Abu Dhabi, the capital of the United Arab Emirates, is no better with as many as 11,000 homes expected to flood the property market in the next quarter, a report by property consultants Jones Lang laSalle said this month.
House prices in Abu Dhabi are expected to fall another 14%, taking them to 60% below their peak, the Reuters property poll also showed, while rents are expected to slump 14% this year and 10% next year.
In June this year Moody's downgraded Abu Dhabi's largest property developer Aldar Properties credit ratings to B2 from Ba3 with outlook changed to negative, citing uncertainty over future government support for the struggling developer.
"There is a higher chance of revisiting the credit rating over a 12 to 18 month period with negative pressure," Moody's Kohlhase said at the summit.
While the outlook for Dubai's property sector remains gloomy, the emirate has been seen as a safe haven during turmoil that has gripped the Arab world and toppled leaders in Tunisia, Egypt and Libya.
Source: propertywire.com