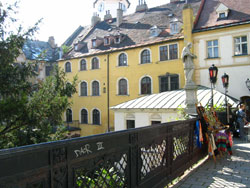 Trend: house prices up 6.02% y-o-y in Q2
House prices in Slovakia are now rising strongly, with low interest rates. The average residential property price rose by 7.04% to €1,369 (US$1,437) per sq. m. (6.2% after inflation) during the year to Q2 2017, an acceleration from last year's 4.75%. During the latest quarter, property prices rose by 2.78% (2.4% in real terms).
Analysis: Slovakian house prices are expected to continue rising.
Property demand is surging both from local homebuyers and foreign investors, according to local property experts.
Residential construction activity continues to rise. In 2016, housing starts stood at 21,440 units, up 9.2% from a year earlier and the highest level since 2008.
Rents, rental yields; moderate yields at 4.47%
Bratislava apartment costs are low at around €3,098 per sq. m.
Slovak Republic: city centre apartment, buying price, monthly rent (120 sq.m.)
Buying price
Rent per month
Yield
Bratislava
€371,760.00
€1,384.00
4.47%
Recent news: The average interest rate on housing loans stood at 1.83% in May 2017, from 1.79% in May 2016, 2.77% in May 2015, and 3.44% in May 2014, according to the NBS.
These interest rate cuts have had less effect than might be expected, as banks are very cautious. Slovakia still has one of the lowest mortgage-debt-to-GDP ratios in the EU, at 27.8% of GDP in 2016, less than half of the EU 28's ratio of about 50%.