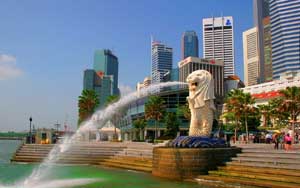 The Singapore government's measures to cool down the property market have succeeded, but it is too early to relax them, said Finance Minister Tharman Shanmugaratnam while unveiling the 2014 national budget in the Singapore parliament recently.
The government increased the additional buyer's stamp duty (ABSD) on private and public housing for foreign real estate investors from 10% to 15% in January, 2013. Foreign buyers pay ABSD, introduced for the first time in December, 2011, in addition to the standard stamp duty rates. These rules are also applicable foreigners on long-term passes (called "permanent residents"), but they pay at a lower rate of 5%. Singapore residents have also been brought under ABSD's ambit, having to pay 7% ABSD when buying their second home.
The stability of Singapore government and the country's robust economy has attracted large numbers of foreign investors. The government is not engineering a hard landing, added Shanmugaratnam, but given the increase in prices in recent years, it was too early to start relaxing.
"Our cooling measures are aimed to moderate the market and prevent the property prices from getting too far out of line with incomes...The government will continue to monitor the property market and adjust the measures when necessary," the minister said.
The government recently also raised the minimum cash down payment for individuals applying for a second housing loan to 25%, from the previous 10%.
The government also introduced a Seller's Stamp Duty on industrial properties for the first time, to discourage speculative activity in the industrial market.
The government's policies are partly a response to low interest rates.
"The restrictions were imposed as the continued buoyancy of the property market reflects the very low interest rate environment and continued income growth in Singapore," said the Inland Revenue Authority of Singapore. "These factors supported a record level of housing transactions, particularly from investment demand. Housing prices have also shown signs of reaccelerating in recent months. Price increases, if not checked, will run further ahead of economic fundamentals and raise the risk of a major, destabilising correction later on."