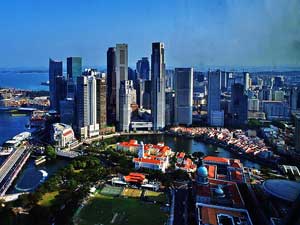 According to the latest URA data, Singapore developers sold a total of 1,375 private residential units in the month of April.
This was a 50.8% drop from the 2,793 units sold in the previous month. Developers only launched a total of 1,158 units, sharply down from 3,489 units in March.
Condominiums in the Outside Central Region (OCR) continued to dominate new private home sales with 53% of the total units sold last month. Median prices of new homes in the Rest of Central Region (RCR) and OCR climbed 1.0% and 4.3% respectively, while median prices in CCR decreased by 2.7%.
Bartley Ridge topped sales chart
Bartley Ridge, a 99-year leasehold project jointly developed by Hong Leong Holdings, City Developments Limited and TID Pte Ltd was the best performing project in April.
Since its launch in March, the project saw a strong take up rate of 79% at a median price of $1,278 psf. Key draws to this project include: 1) close proximity to Bartley MRT, shopping malls and schools and 2) potential upside to prices due to Government's plans to revamp the Bidadari area into a new residential estate.
Best-selling projects
Other projects which performed well were namely Sant Ritz, d'Nest, Jade Residences and Urban Vista. Both Sant Ritz and Jade Residences are new launches of the month.
Sant Ritz sold 104 units (of 176 units launched, total 214 units) at a median price of $1,494 psf, Jade Residences sold 79 units (of 100 units launched, total 171 units) at a median price of $1,592 psf.
Sales momentum also continued for both d'Nest and Urban Vista, with additional 92 and 73 units sold respectively.
Increase in proportion of units sold in the Core Central Region Sales improved in April.
The proportion of units sold in this segment increased to 13%, as compared to only 5.6% in March. New launches have also increased to 147 units, as compared to 86 units in March.
Projects in the CCR may be gaining traction due to their reduced selling price. Median prices in this segment continued to decrease in April by 2.7% following an earlier decrease of 11.1% in March.
Sales volume and prices to maintain at its current level
The drop in April's numbers indicates that sales volume has normalised. The strong run up in March was mainly due to pent up demand after the festive break and developers dishing out attractive discounts for new projects.
However, we expect discounts to taper off going forward, as developers have paid higher land price for the upcoming launches. Developers are also likely to hold back major launches and continue to monitor buyers' interest.
Moving forward, we expect sales volume to maintain at its current level.
Housing demand is likely to remain healthy despite the economy contraction in 1Q13.
Other key support factors such as the availability of cheap credit and a low unemployment rate will continue to fuel housing demand.
However, a repetition of 2012's strong sales rally is unlikely due to the January 2013 cooling measures.
Prices are also expected to stay firm. Given the abundance of projects in the market for buyers to choose from, developers are likely to be cautious in their pricing strategy. This is to avoid hitting the buyers' price resistance level especially for Outside Central Region projects where demand is believed to be more elastic.