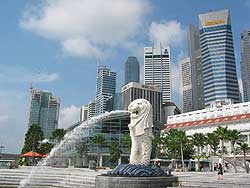 As neighbouring Hong Kong considers lifting some stiff property measures, Singapore has tightened its controls on the housing markets.
An Additional Buyer's Stamp Duty (ABSD) for private property of between 3% and 10% for Singaporeans, Permanent Residents and foreigners to moderate investment demand for private residential property and prevent future volatilities, the Finance and National Development ministries had jointly announced on Wednesday.
The directive states the following changes:
Foreigners will pay 10 % Additional Buyer's Stamp Duty (ABSD) for any residential property.
Permanent Residents owning one and buying second and subsequent properties will pay 3 % ABSD.
Singaporeans owning two and buying a third and subsequent residential properties will pay 3 % Additional Buyer's Stamp Duty.
The ABSD will be imposed over and above the current Buyer's Stamp Duty, which are 1 % on the first $180,000 of purchase consideration or market value of the property (whichever is higher), 2 % on the next $180,000 and 3 % for the remainder.


The changes, which would immediately take effect, will dissuade foreigners and residents from acquiring more properties, which could for the long term, erode Singapore's banking system and economic fundamentals, an analyst from DBS Bank Singapore noted.
Government data showed foreign purchases account for 19% of all private residential property purchases in the second half of 2011, up from 7% in the first half of 2009.
"The investment in Singapore's real estate market is larger than ever. The government is seeking to cool demand now to avoid a major price crash in the future," said Finance Minister Tharman Shanmugaratnam in a statement.
Global Property Guide Research pointed out that "the high yields in Singapore dropped this year to strikingly low levels, due to soaring residential prices. Yields at 2.2% to 3.3% are fairly worrying."

"With limited land and resources, Singapore has one of the world's most interventionist housing market policies."
Source: ChannelNewsAsia, Singapore Straits Times