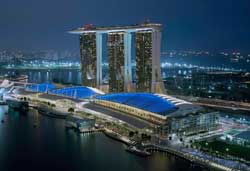 The Monetary Authority of Singapore (MAS) has advised residential property investors to be cautious when investing in Singapore. In its latest review, the MAS said rising vacancy rates, declining rentals and impending interest rate increases could make investment in rental properties less profitable in the near future.
"Before investing in property, investors should be aware that rising vacancy rates, declining rentals and impending interest rate increases mean that they may not always be able to rely on rental income to service their investment property loans," said the review, published by the Monetary Authority of Singapore (MAS) recently.
While home sale numbers increased slightly in October, Singapore home prices have declined for 12 straight quarters. The third quarter reported a decline in prices of 1.5%, compared to the second quarter.
The MAS however noted that the market could also move up, which it called an "upside risk".
"Transaction activity has held firm, perhaps buoyed by the low interest rate environment and better matching of price expectations between buyers and sellers. Resale activity has increased and take-up at some newly-launched projects has been strong," it said.
"The upside risks that current low global interest rates could spur further demand in the market cannot be discounted."
The MAS said that the banking system would be resilient to a sharp fall in property prices, with loan-to-value ratios of housing loans coming down from 77% in the second quarter of 2010 to 60% in the third quarter of this year.
It also noted that the value of overseas property transactions by Singapore households had fallen to 200 million Singapore dollars ($140.4 million) in the first half of 2016, from 1.1 billion Singapore dollars in the first half of 2014.
Eighty percent of the total value was invested in properties in the U.K., Australia and Malaysia in 2016's first half, while the Philippines, Cambodia and Vietnam made up 11%.