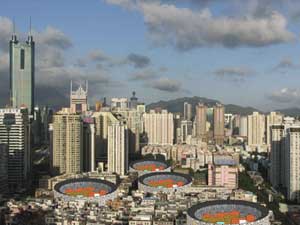 To cool residential property market several second-tier cities in China have imposed new restrictions on home buyers and investors.
The authorities in Shijiazhuang have announced that investors will not be able to sell newly bought homes for up to five years. The curb is aimed at reining in on property speculation.
In Changsha in Hunan province, people will not be able to buy a second property for three years from the time of their first home purchase, and non-local residents have been banned from buying more than one unit per person in Changsha.
Chongqing and Nancang in Jiangxi province have banned people from selling new and existing homes for two years after purchase.
Xian in Shaanxi province has announced strict action against property developers and investors involved in speculation activities.
In the past year, more than 45 major cities have imposed restrictions on home buyers and property investors.
The curbs are already showing results. China's new home prices rose in August at the slowest pace in seven months, according to the National Bureau of Statistics (NBS) data.
Average new home prices in China's 70 major cities rose just 0.2% in August, half the pace of the previous month.
NBS analysis noted that prices in the 15 hottest markets, including prices in most mega-cities and provincial capitals, have stopped rising on a monthly basis.