Riga's breakneck house price increases slowed in May, with prices for standard-type apartments increasing on average by 1.5%

Prices of apartments have risen 23.4% since September 2009 and 15.4% since the beginning of 2010. The districts of Jugla, Zolitūde and Āgenskalns had the highest price increases during the first five months of 2010 (18%), the lowest price rise being in Pļavnieki (11%).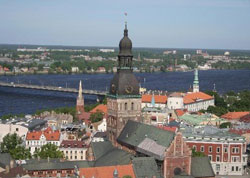 In May the number of properties for sale rose by 12.4%, in comparison with April's increase of only 0.2% – a substantial increase, affecting the general price level, and the fifth month of increases in the number of properties-for-sale.

Prices are now 62.9% below peak. The average price of a standard-type apartment price stood at 601 EUR/m² in May, a long way from the level of July 2007, when average prices of non-renovated standard-type apartments stood at 1620 EUR/m².

"The slowing rate of price increases during the first half stems from more offers-for-sale, as credit conditions have not essentially changed," says Māris Laukalējs, Arco Real Estate's head of valuation.

"During the months when few houses were put on the market (for example, in April, the increase was 0.2%) there was a comparatively sharp price increase. As the direct result of that price increase, potential apartment sellers who had decided to wait made the decision to sell. In turn, this increased potential buyers' choice, slowing the rate of price increases.
"During the next few months, price rises should be lower, and average prices in some districts could even decrease.

"However as soon as the new bank enters Latvia, we expect active mortgage finance activity to restart, as this bank has no bad credit portfolio, and today's relatively low prices mean low risk. As a result, market activity could increase, pushing up prices even more."