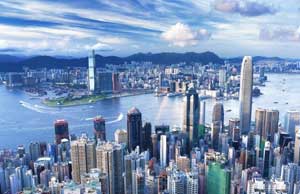 Hong Kong is not going to ease restrictions imposed to cool its property markets, worried that it could provoke an 'irrational market response', says newly- appointed Chief Executive Carrie Lam. She, however, hinted that stamp duty rules may be amended in the near future.
Lam admitted that the restrictions are 'tough' and that buyers finding it extremely difficult to arrange the inflated down payments which, in many cases, are up to 40% or 50% of the property price.
She indicated that despite buyers facing these difficulties, there were no plans to cool the measures.
"For many policies, once they have been put in place, if we were to suddenly remove them, it would be hard to foresee how the market would react," she said on a radio programme.
"Property prices have already gone up so much. Any signals to society that the government will ease or remove the cooling measures could lead to an irrational market response."
Hong Kong property prices have skyrocketed over the past few years, posing risk to the economy and the banking system.
Hong Kong's government has rolled out several cooling measures over the past 3 years. A special stamp duty was introduced in 2012, followed by double stamp duty in 2013. The government also tightened mortgage lending. People buying a second home now have to pay an additional stamp duty of 15%.
The Hong Kong Monetary Authority (HKMA) had also imposed new restrictions on bank lending to property developers. HKMA directed banks to restrict loans to property developers a maximum 40% of a site's value, replacing the earlier limit of 50%. The cap will come into effect from June 1.
Hong Kong property prices are going up despite these curbs. During the first seven months of 2017, the total number of property transactions in Hong Kong increased 47.4% to 35,628 units from the same period last year whiles sales values surged 80.8% to HK$329.8 billion (US$42.15 billion), according to the Ratings and Valuation Department (RVD). Strong housing demand has been propelled by low interest rates and the limited supply of land, which the government controls.
"The risk of the property market overheating still exists," warned Norman Chan, the head of the city's de facto central bank, the Hong Kong Monetary Authority.
"Right now we are at a very abnormal state with very low interest rates," Chan said, adding that people should be prudent because their mortgage rates could rise if interest rates increase in the future.