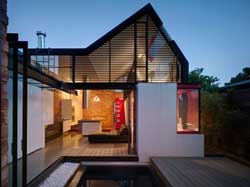 Australian consumers felt the pangs of the jaggedly edged two-speed economy in almost a year and a half cutting deep into pockets, yet giving a general feeling of security in the near term.
With benchmark interest rates slightly tipping at 4.5% early in November, the house property market prices moved downwards in key cities Sydney and Melbourne, according to Global Property Guide (GPG) Research.
In Q2 2011, house prices fell by 4.7% from the previous quarter. The Northern Territory saw the largest drop (69.4%), followed by NSW (-20.1%), Queensland (-16.3%), and Tasmania (14.3%), GPG reports.
Nevertheless, Aussies are somehow less convinced and practice more caution in acquiring property.
The cautious sentiment pushed house prices down in key cities Sydney and Melbourne. From January to September 2011, Sydney's average median house price is down 1.6%. While in the city of Melbourne, average median house price fell 3.2% during the January to September period.
The only areas in Sydney that recorded upward housing price movements are in the southwest Sydney suburb of Canterbury-Bankstown and in the Northern Beaches, rising 5.6% and 3.2%, respectively, according to the Australia Bureau of Statistics (ABS).
More rentals than home buyers
Data from the Statistics Bureau also showed that during the period 2000 to 2011, renting outpaced home ownership in the country.
Australians opting for rental rose 24% from 18%, while those who acquired their own property climbed 36% from 30%, ABS reports.
New tax rates have disheartened some buyers, Global Property Guide reports that the tax rates range from 29% to 45%. An owner may also be required to pay a land tax annually, depending on which state his property is located and on what type his property is.