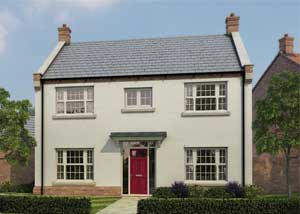 Mortgage assistance schemes for first-time home buyers caused a record rise in home loan approvals in the UK in January, the highest in six years, according to the British Banker's Association (BBA).
Mortgage lending by BBA members was 38% higher year-on-year to January. The number of approved, but not-yet-lent mortgages, saw a 57% increase.
The figures put mortgage approvals at their highest since September 2007.
"Approvals for new purchases have climbed quite significantly and are now at their highest point since September 2007. Mortgage borrowing continues to rise compared to a year earlier as mortgage assistance schemes help first time buyers and housing chains more generally," said BBA statistics director David Dooks.
The government's Help to Buy scheme makes it possible to buy a new-build or existing home priced up to £600,000 with as little as a 5% deposit. UK policy makers, including prime minister David Cameron, have dismissed concerns that Help to Buy might cause a housing bubble.
House prices continue to surge in the UK. The average price of a home was 9.4% higher year-on-year to February, the strongest rate of annual growth since May 2010, according to Nationwide.
"Demand continues to be supported by record low interest rates, improved credit availability and rising consumer confidence thanks to the healthy gains in employment recorded in recent quarters," said Robert Gardner, Nationwide's chief economist.
"Price growth is being supported by the fact that the supply of housing remains constrained, with housing completions still well below their pre-crisis levels, which was already insufficient to keep up with the pace of household formation," he added.
Less than 110,000 new homes were built in last year, 38% below the number built in 2007.
In January 2014, the number of houses for sale in the UK hit a new low, while potential buyer numbers continued to surge, according to the latest Royal Institution of Chartered Surveyors (RICS) report.