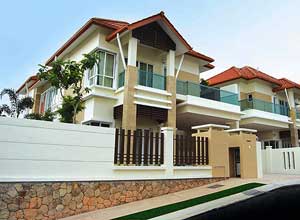 The Malaysian government will soon require property developers to obtain permission before making bulk sales of more than four units. The move is aimed at curbing rising property speculation, and to give ordinary individuals an equal opportunity to buy houses.
The Ministry of Urban Wellbeing, Housing and Local Government is currently formulating guidelines to this effect and likely to implement them in a month's time, minister Datuk Abdul Rahman Dahlan said.
The guidelines aim to discourage big investors and property investment clubs from making bulk purchases of properties. Rising property prices fuelled by easy financing have been a cause of concern in Malaysia recently.
After the guidelines are implemented, a developer will have to obtain prior approval from the Controller of Housing to make bulk sales of more than four units.
"Speculators are not breaking any laws, but a check on such bulk purchases is necessary as they could create fluctuation and inflate the property market. They also deprive ordinary house-buyers of equal opportunities," said the minister, stressing that housing prices should be determined by demand and supply, not by unhealthy speculation.
He said the ministry is talking to Real Estate and Housing Developers' Association of Malaysia and various other stakeholders in the industry before announcing the new guidelines by next month.
"In order to curb speculative activities by 'property investors clubs', my ministry will establish a comprehensive database of house buyers so that we can identify the number of houses owned by an individual and take the necessary steps to curb unhealthy speculation," he said.
Opposition leaders lauded the government's plan to curb property speculation, but stressed that any measures should not hurt the property market.
The government last year doubled the Real Property Gains Tax (RPGT) to 30% for properties disposed of within three years of acquisition. It forbade banks from offering financing via Developers Interest Bearing Schemes (DIBS), where the developer paid the interest on buyers' loans during construction of a project. DIBS-financed projects have tended to be significantly more expensive than others, as their prices include financing costs and reflect future property values. According to some, the schemes distorted the market, and in any case, added to buyers' liquidity.
The government announced earlier this month that it would offer financial aid of up to RM30,000 ($10,000) for each unit built under the MyHome scheme, i.e. housing units for those who earn less than RM3,000 ($1,000) a month and set aside a budget of RM300 million ($100 million) for the massive project.