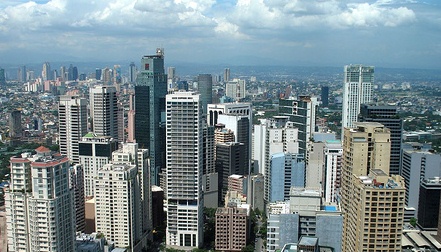 The Philippine property market is booming. Land values recently exceeded peak levels reached before the 1997 Asian financial crisis for the first time after the Government Service Insurance System (GSIS) sold two lots in Fort Bonifacio, measuring 1,600 square meters (sq. m.) each, to privately held firms Focus Palantier and Goldenwill noted a report by Colliers Philippines.
As a result of these sales, average land values were estimated by Colliers to have risen by18.7% and 38.2% in Manila's Makati and Fort Bonifacio CBDs in the third quarter of 2014 compared to the levels in the second quarter. In Ortigas in contrast land values only rose by 3%.
Note that these estimates are somewhat artificial, as they represent the results of large transactions, with Focus Palantier winning the bidding for the first Fort Bonifacio lot for P500,000 per sq. m. while Goldenwill won the bidding for the second lot for P458,000 per sq. m. Colliers also took into account Ayala Land's purchase of the abandoned Jaka tower in Makati's central business district (CBD).
Philippine residential property is however yet to show signs of being stretched, according to UBS economist Edward Teather's recent research note "Philippines By the Numbers (2014)".
"Real price gains in Manila property prices have been less buoyant than those on the equity market and real Manila property prices do not look stretched," he said. The Philippine Stock Exchange index rose by 22.8 percent to close at 7,230.57 in 2014, and since then has tested new highs.
Mortgage rates have been at record low levels in the recent years. Besides, household income has steadily increased leading to improved consumer confidence. The stability of the country's banking system has also played a role. Teather also noted that stock markets and other asset prices are among the best forward-looking indicators for economic growth.
The UBS economist expects the Philippines' easy credit environment to continue supportive in 2015 but less so than in 2012-2013, citing headwinds from the peaking credit cycle.
"The investment to GDP ratio has trended higher and we expect that this should continue, reversing the decline of the last decade. The risk is that investment growth has been construction-centric and may prove vulnerable to higher interest rates and when these rise from extraordinarily low levels," said Teather.