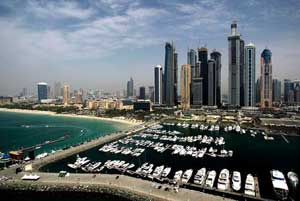 Residential property prices in Dubai will increase by 10-15% in 2014, according to a HSBC Global Research report.
Housing sales prices increased by 6.3% in the year to February. Rents increased by 5.2%. "We forecast 10-15% growth in prices from current levels in 2014 and relatively stable net yields at 4.5%-5%… We expect this trend to continue at least for the next two years as the economy recovers and Dubai maintains its reputation as a safe haven in the region," the bank said.
HSBC rules out the possibility of a property crash, as the market is sustainable and headed for healthy growth. HSBC Global Research said that there will a supply of 90,000 new units in Dubai by 2018, however, it will not result in oversupply as the new housing units will be absorbed by the growing population.
"We believe that we have not yet reached the peak of the cycle, and that the market can continue to absorb the expected supply additions over the next few years, even at a population growth rate below 5 per cent. The Dubai population would need to increase by 300,000 people by 2018 in order to absorb all of the new supply," the bank said.
The trend of increasing foreign investment in Dubai is likely to continue. The bank said, "We assume that 30% of this new supply will be bought by foreigners who intend to use them as second homes, which they will not rent out."
The bank's estimates are along the lines of figures released by the Dubai Land Department (DLD) which suggest that Indian, British and Pakistani nationals are increasingly buying real estate in Dubai. Investment by buyers from three countries doubled in 2013 from the previous year. Real estate transactions worth Dh236 billion (US$64.25 billion) were recorded in 2013, up from Dh154 billion (US$41.93 billion) in 2012 - growth of 53%.
Buyers from 140 countries invested Dh69b billion (US$18.78 billion) in real estate in Dubai in 2013. Indians bought property worth Dh18 billion (US$4.90 billion). Britons and Pakistani nationals were at second and third place, with investment worth Dh10.4 billion (US$2.83 billion) and Dh8.6 billion (US$2.34 billion).