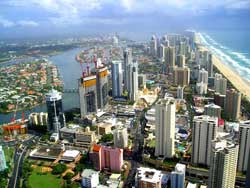 Australia's property market prices are still perceived to remain subdued this year amidst the respite offered by the Reserve Bank with its rate cuts.
In his 2012 market outlook, RP Data analyst Cameron Kusher says that while the interest rate cuts will help boost sales activity, prices are unlikely to move.
"Overall, we anticipate that the soft conditions are likely to persist, however conditions will be better than those in 2011. We forecast that growth will be limited with values potentially falling further in certain areas. In those areas where values do increase they are likely to grow at a rate below inflation," Mr Kusher explains.
Mr Kusher notes Adelaide, Melbourne, and Hobart as the weakest capital city markets. On the other hand, Sydney, Brisbane, Perth and Canberra will perform better, albeit with limited expansion.
RP Data Australia's low-to-no growth perspective is supported by ANZ. ANZ says in a note to investors that financial market volatility will "push house prices sideways to lower over the next six to 12 months in most capital cities.
In a related Sydney Morning Herald report, Queensland real estate veteran Michael Matuisk said he expects a long period where the market will essentially move sideways.
"We look to some improvement in nominal terms, but in real terms, expect a period of flat growth. Improvement should follow, within a small positive band of 2% to 4% per year over the next several years," says Mr. Matuisk
November data
Official data released late last week by RP Data Australia showed capital city home prices rose in November 2011 by 0.1%--the first increase in home prices since December 2010. Dwelling prices, on the other hand, were down 3.5% in the first 11 months to the year.
CommSec economist Mr. Craig James says "the small increase does signify that home prices are flattening or close to flattening, but the fundamentals for the property market are strong."
Mr. James says that now is the time to be involved in the property investment in the country.
"If you had been thinking about purchasing an investment property, now is the time to get your homework and paperwork in order. The job market is healthy, housing markets are considered to be under-supplied and rates have been cut twice in the space of two months. Certainly other asset markets don't offer the same attraction as residential property," adds Mr. James.

He reminded, though, that the prospects and conditions differ significantly across the country.
The RP Data Australia showed dwelling prices rose in Melbourne (up 0.2%), Perth (0.5%) and Canberra (0.4%), although Brisbane (-0.7%), Adelaide (-0.3%) and Darwin (-0.9%) saw slight falls. Prices were flat in Sydney.
Significant rate cuts
Commsec anticipates more RBA rate cuts in November and December that will help lift demand and prices for housing.
"CommSec expects Australian property prices to grow around 5% in 2012, but as always there will be major deviations from city to city and across regional areas," notes Mr. James.