Investors looking for Caribbean properties may want to turn their attention to the Dominican Republic, after one publication claimed that there are bargains to be had on the island.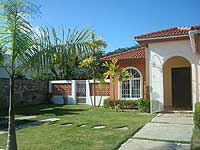 Writing for International Living, Len Galvin reported on a speech by Margaret Summerfield at the recent Live and Invest Overseas Conference 2011, where she claimed "very low property prices" can still be found in the country.

Another reason to consider buying real estate in the Dominican Republic is the affordable cost of living, Ms Summerfield added.

In particular, she highlighted the town of Las Terrenas, which used to be a quiet fishing village and is now home to a large expatriate community.

Here, it is possible to pick up a villa or apartment for $70,000 (£44,435), Mr Galvin revealed, as long as you do not mind being away from the beachfront.

Earlier this month, International Living highlighted the low cost of everyday expenses in the Dominican Republic when researchers from the publication interviewed a couple who were living on an average of $66 per day in Las Terrenas.