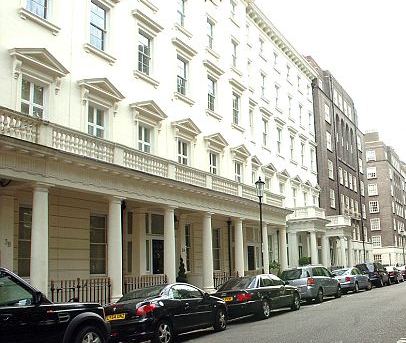 Wealthy individuals from Africa and the Middle East are now among the biggest purchasers of prime properties in central London.
Beauchamp Estates, which sells some of London's most expensive homes, recently reported that around 5% by value of London buyers come from Africa, with six countries - Nigeria, Ghana, Congo, Gabon, Cameroon and Senegal - topping the list. Nigerians are among the biggest spenders, forking out £250 million on London homes in the last three years.
"I've had an upturn in African buyers over the last few months," says Gary Hersham, managing director of Beauchamp Estates, citing fear of Boko Haram as among the causes.
"The situation in West Africa at present is pushing rich African buyers back into Central London at a significantly higher level than is normally experienced.
"While war, disease and terrorism in West Africa grab media headlines, actually for super-rich Africans its domestic wealth, cultural ties to London, general safety and education for their children that are the key attractions for buying a home in central London."
These super-rich look to buy property in the 'platinum triangle' of Mayfair, Belgravia and Knightsbridge. Around 80% spend between £15 million to £25 million on a residential property, with 10% spend more than £30 million.
Independent agency Black Brick say that Africans now buy 43.7% of their prime London properties. Buyers from the Middle East buy 17.1%. Asian and UK buyers via for third place, at 10% respectively.
According to Black Brick's founder and managing partner Camilla Dell, Africans have always had a strong affinity for the UK, particularly London.
"Over the last eight years, we have acquired £236 million (US$368 million) of residential property for African buyers from Nigeria, Kenya, Zambia, South Africa and Uganda," she said.
"In particular, we've represented numerous buyers from Nigeria. Like a lot of our owner/occupier international clients, many wealthy Nigerians were educated in the UK and send their children to school here," she added.
Black Brick's figures show that 39% of the firm's Nigerian clients have bought in SW3, SW10 and SW1 and 35% of them are buying in North West London postcodes such as NW8, NW6 and N2. In addition, 58% of our Nigerian clients have been purchasing homes in London with the remaining 42% buying for investment.
Nigerian buyers prefer gated communities for security reasons. Besides, one of the main reasons for their interest in the London properties is to provide accommodation for their children while they study here.