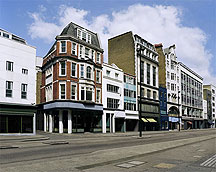 There could be significant growth in Romanian property prices over the coming months and years, one expert has asserted.

Speaking to the Independent, Philip Moorish from Growth Equities and Company Research, explained that while the nation's economy is rapidly expanding, values of real estate have yet to see high price growth.

According to the news provider, Romania is currently seeing its gross domestic product increase by four per cent, well above the EU average of 1.6 per cent.

Mr Moorish made his comments about the state of the eastern European country's prospects following the news that Argo Real Estate Opportunities (Areo), has purchased two shopping centres in the region and aims to make further acquisitions.

The publication noted that Areo sees "a huge opportunity" in the nation and intends to become "the dominant developer, owner and operator of international-quality retail parks and shopping centres in Romania and the region".

However, the same may not be said for residential property, with a report in Global Property Guide earlier this month revealing that house prices in the nation declined by anywhere between ten and 20 per cent in 2010, depending on the figures used, with values continuing to slide this year.