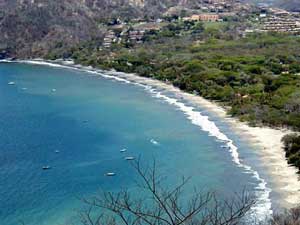 Nicaragua may ask the International Court of Justice to "restore" Guanacaste from Costa Rica, a province "Nicaragua lost to Costa Rica's expansionist politics back in 1824," President Daniel Ortega has twice warned.
Guanacaste is one of Costa Rica's most prosperous provinces, with tourism and real estate driving growth. It has spectacular resorts and mansions, like Mel Gibson's 500-acre Playa Barrigona, and the Riu resorts which Canadians favor. Guanacaste also has a thriving aerospace and science industry powered by research at EARTH University, and engineering at the Ad Astra Rocket Company in Liberia. Six new major hotels are scheduled to open between late 2013 and early 2014.
Ortega's threats added to the already strained relationship between the two Latin American neighbors. However, Costa Rica's Foreign Vice Minister Gioconda Úbeda told media that "as it [jurisdiction over Guanacaste] was solved over a century and a half ago, in the border treaty.... We will not discuss it, but if he [Ortega] decides to take it to the ICJ jurisdiction, as he's getting used to, he will have to comply with international law procedures. That's the way an unarmed nation like Costa Rica solve disputes."
While this may have entirely nothing to do with the Nicaraguan claim, Mel Gibson is now selling his Costa Rican property for US$29.75 million. The actor originally bought the property for US$ 24 million in 2007 during the filming of "Apocalypto."