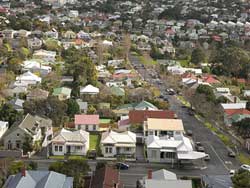 New Zealand's already-pressured rural housing markets are likely to be boosted by new immigration policies, under which migrants who say they are prepared to live and work outside Auckland will get 30 points credited to their application from November 1, up from the previous 10.
A skilled migrant needs 100 points to obtain a residency permit. Points for immigrants on entrepreneur work visas will double to 40 if they set up business outside Auckland.
Many believe that the immigration policy was altered in view the Auckland's housing crisis, which is being blamed on increasing number of people migrating to New Zealand's largest and most populous city. Auckland's population increased by 34,000 in just one year due to migration.
Prime Minster John Key has downplayed fears of pressure on housing in provincial New Zealand due to change in immigration policy. He said that it was unlikely to have an impact on the Auckland's housing markets.
"I don't think it'll have a dramatic impact. We're not arguing the case this is the answer to the challenges that the Auckland housing market are facing."
The opposition parties are however accusing the government of sabotaging rural New Zealand. New Zealand First leader Winston Peters said more than 1100 immigrants were arriving every week.
"This puts pressure on the rental and housing market and forces Kiwis to compete with tens of thousands of people coming here on work and student visas...Don't blame the immigrants or the foreign buyers for what they are doing, blame those in this country who encourage it," he said.
Property prices in New Zealand have continued to surge at a record pace. Property values are now rising at their fastest pace in eight years, driven by the overheated Auckland housing market, according to state-owned agency Quotable Value. Property values are now about 27% above the previous market peak in late 2007.
"We are now seeing a definite upward swing in market activity in the upper North Island...This is especially evident in Hamilton, but also in Tauranga, Whangarei, and the Franklin, Hauraki and Waikato districts," said QV spokeswoman Andrea Rush.
"Net migration remains at record highs and there are now incentives for new migrants to move to areas outside of Auckland, so this coupled with record low interest rates is likely to see continued upward pressure on home values as we move towards spring," he added.